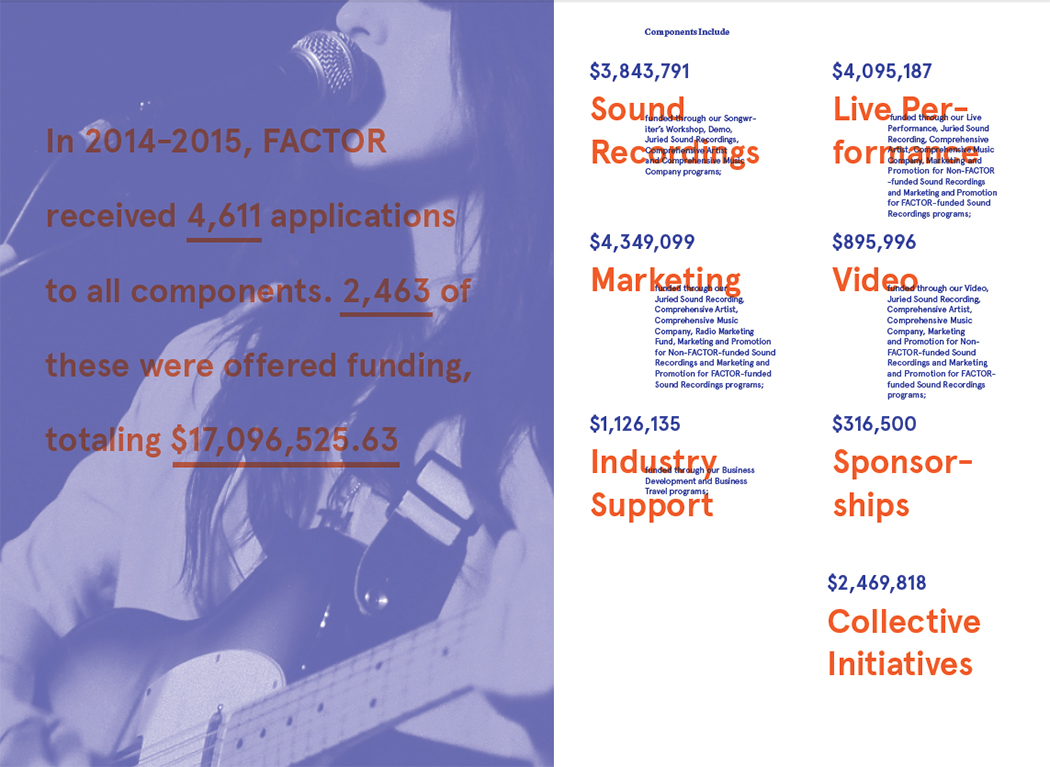 We're proud to announce the publication of our 2014-2015 Annual Report. You can view it on our Annual Reports page.
In 2014-15 FACTOR offered $17,096,525.63 to 2,463 projects across our 13 programs. Here are some highlights:
Our 2 most popular programs are the Demo and Juried Sound Recording programs. Almost half of all the applications we received were for these programs.
FACTOR offered $3,843,791 in support of 560 new sound recordings. $1,325,688 of this funded 130 recordings through the Juried Sound Recording program. We received 911 applications to the Demo program. Of these, FACTOR funded 305 demos, or 33% of all applications
We supported 685 tours and showcase appearances across Canada, the US, Asia, Australia, and Europe.
108 videos were funded by FACTOR.
We offered $2,469,818 to 84 Collective Initiatives projects in 9 different provinces this year. This included $1,366,600 of funding for industry events like Breakout West, the Polaris Prize, CMW, Pop Montréal, M for Montréal and Halifax Pop Explosion.
11 FACTOR-funded sound recordings went gold (including singles and albums). 3 sound recordings went platinum (digital downloads), and one album went double platinum.
FACTOR staff met with clients at events across the country in 9 provinces, from the west coast to the east coast.
Congratulations as well to the #FACTORfunded, Juno-award winning artists – which include July Talk, Brian Current, Tanya Tagaq, and Catherine McLelland. In total, #FACTORfunded artists and albums took home 42 awards this year. Well deserved, everyone!
Published on:
August 1, 2015