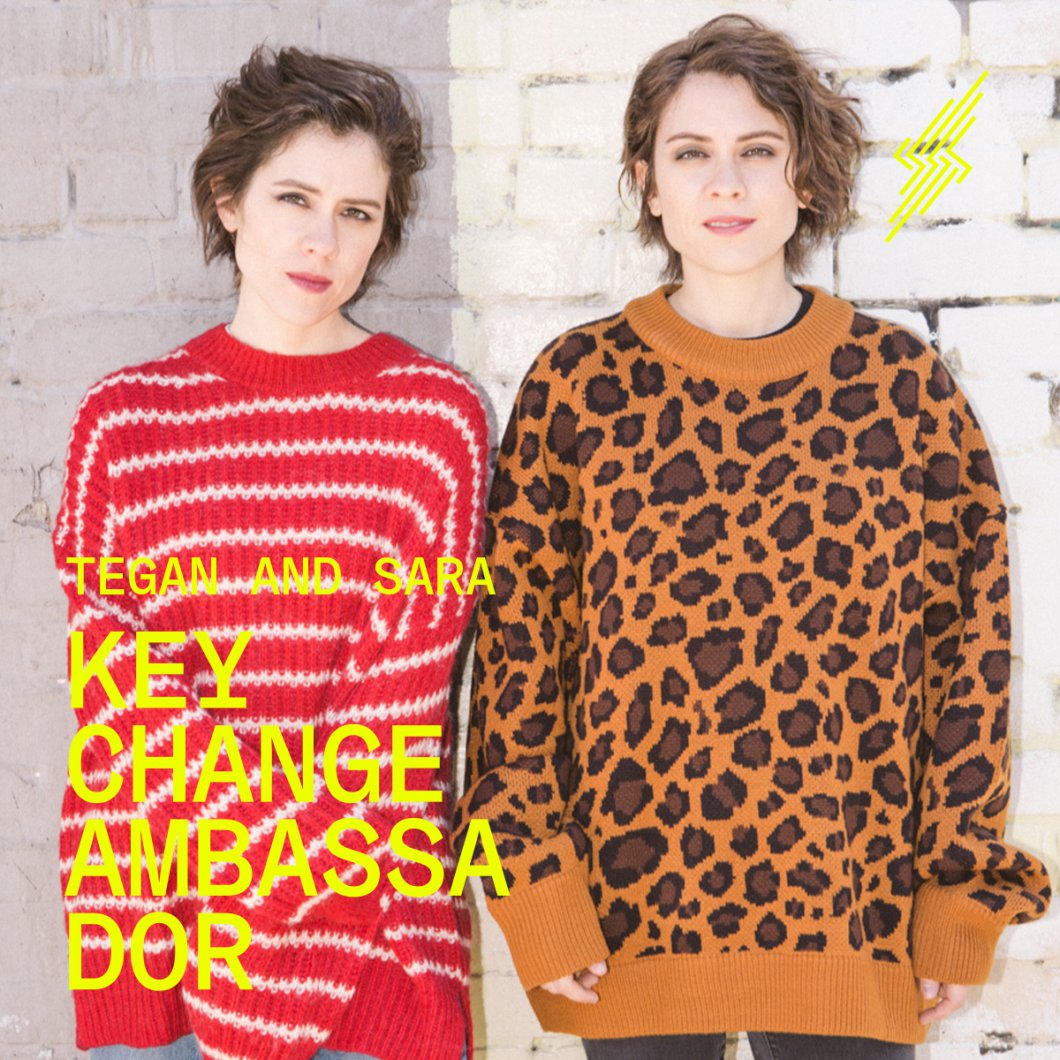 This is the first year that Canada is an official country partner in the Keychange movement for gender equality. This week, Canadian funders FACTOR and SOCAN Foundation, alongside lead festival partners BreakOut West and MUTEK Montreal collaborate on a focus week to explore the barriers for women and gender minorities in Canada.
Keychange along with Canadian partners are proud to announce the appointment of the next Canadian Ambassadors to further the movement for gender diversity: Tegan and Sara. Tegan and Sara have released 9 studio albums, slowly crafting a sound both unique and influential. Selling over a million albums before streaming came along, Tegan and Sara became indie darlings in the early aughts, playing every bar, club, theater, arena and festival stage along the way. They will be taking part in a private In Conversation session for Keychange participants, hosted by Canadian Keychange participant Mar Sellars on Thursday 12th November.
Tegan and Sara said: "We encourage members of our industry who have tremendous power to sign, fund, promote, nominate, support, acknowledge, and celebrate the diverse population working in the arts today. The demographic breakdown of awards nominations and festival lineups reflects the structural confines of our society and industry. We must do better as it sends an outdated message to the next generation about whose art and voice and message is valuable."
Meg Symsyk, FACTOR President and CEO Elect said: "As a national funding organization in Canada, we are proud to lead and join our partners on this global initiative. FACTOR is committed to ensuring that our programs raise the bar, with these objectives of creating a more equitable future for underrepresented genders in the music industry. We look forward to working with our colleagues in our collective industry to strive to meet the new industry standards for which we all wish to participate and thrive in."
"The Keychange initiative is paving the way forward to ensure greater diversity, inclusion, and equity in the music industry globally." Said Charlie Wall-Andrews, Executive Director of SOCAN Foundation and Vice-Chair of Music Canada's Advisory Council. "It's important for our industry to collaborate collectively to challenge the status quo, and the Canadian partners and festivals are committed to ensuring the success of Keychange in Canada."
Robyn Stewart, BreakOut West said: "BreakOut West is committed to highlighting the diverse voices of our artists and industry. Our commitment as Keychange partners is one part of this as we strive to support female and non-binary leaders and the incredible mix of talent in Western Canada."
Marie-Laure Saidani, MUTEK Montreal said: "Gender equality is one of MUTEK's core values. Joining the Keychange movement in 2018 has definitely acted as a catalyst as we have achieved parity in our programming since. We are proud to belong to this international network which advocates positive change in the music industry."
Today Keychange announces 7 Canadian organisations who have signed the Keychange gender pledge; the Polaris Music Prize, a not-for-profit organization that annually honours and rewards artists who produce Canadian music albums of distinction, MMF Canada, a non-profit trade association that offers education, networking and advocacy on behalf of its members, their artists, and the wider Canadian music community, plus Musique NB (MNB), Birthday Cake Media, Kaneshii Vinyl Press, and n10.as. These music businesses have signed the Keychange gender equality pledge towards achieving 50% representation of women and under-represented genders.
As campaigners for gender equality in music, Keychange invests in emerging talent with a yearly participation programme, whilst continuing to encourage festivals, conferences and a growing range of music organisations and institutions to sign a pledge to include at least 50% women and under-represented genders in their programming, staffing and beyond by 2022. The current list spans 40 countries and over 350 organisations such as and more. See the full list here.
In addition to the ongoing Keychange Pledge, 74 participants – a roster made up of emerging artists and innovators within the music industry – are selected each year from across Europe and Canada to take part in international festivals, showcase events, collaborations and a programme of creative labs. Exceptionally, due to the COVID-19 pandemic, Keychange 2020 participants will see their involvement extended until December 2021, in order to allow for travel and development to take place in the following year, with online mentoring, panels, and workshops run by Capacity Building Lead, Chimes until then. Partners across Europe and Canada will host discussions around the national gender equality climate during 2020.
Canada's Keychange participants for 2020/21 are:
Artist manager and talent buyer Rebecca Szymkow has recently joined Birthday Cake Media and works in Winnipeg, Manitoba. In 2020 she made the change to spend more time developing artists' careers as a manager, as well as to book talent for festivals and events. KROY AKA Camille Poliquin is an accomplished music composer, who alongside the captivating universe of hypnotic rhythms and analogue synthesizers as KROY, has composed music for many artists, for 4 full length movies and two Cirque du Soleil shows. Katrina Lopes is the president of KL Management, whose roster includes platinum selling and award winning artists and producers. She also executive produced the film "ALIVE", and is on the board of Directors for Manifesto, a contemporary youth arts and culture platform, producing curated programming in music, visual arts, and dance. iskwē is, among many other things, an artist – a creator and communicator of music and of movement, of pictures, poetry and prose. Having joined the movement as an Ambassador in 2018, we were lucky to engage her as a participant this year, in the same year that she won a Juno Award for 'Video of the Year', and was nominated for the SOCAN prize. Savannah Wellman is a co-founder of Tiny Kingdom Music, a record label and artist management company based in Vancouver, Canada. Her musical and industry knowledge has been called upon as a juror for the JUNO Awards, Prism Prize, SOCAN Songwriting Prize, FACTOR, as a contributor for Beatroute Magazine, and as a member of the Music Managers Forum Canada board of directors. Kimmortal is a queer Filipino nonbinary musician from Vancouver, Canada. Since 2014, Kimmortal has gained traction across North America, having performed in festivals such as South by Southwest (SXSW), Junofest, Kultura Filipino Arts Festival, Rifflandia and Queer Women of Colour film festival in San Francisco. Mar Sellars is an artist manager and radio host with her own company Mar On Music. She manages Partner, Goodbye Honolulu, Poolblood and Tallies. Originally from Vancouver, Mar has toured in numerous Canadian and UK bands, worked at the BBC, been a CBC radio personality, and worked as a European booking agent and music publicist. Dana Beeler is the frontwoman of Hello Delaware, who have played cities across Canada and the Atlantic Ocean, where the quartet made its UK debut at The Great Escape and Focus Wales festivals in the Spring of 2018. They have since represented Nova Scotia and Canada at Reeperbahn, Tallinn Music Week and more.
MUTEK and Breakout West are the festival partners for Keychange in Canada and will host 4 international Keychange participants each, as well as the Canadian participants in 2021.
Read the full press release for more details!
Click here for the French version of the press release.
Listen to the Canadian Keychange artists on Spotify here and on SoundCloud here.
For media enquiries, please contact:
Keychange Sim Eldem: sim@keychange.eu
Published on:
November 10, 2020